A.SPELL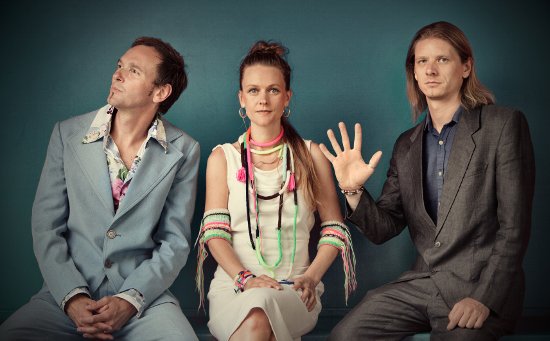 Freitag 22. April - 20:00 Uhr
The Meaning of Life - CD release tour 2016
Ronan Skillen - Tabla, Percussion, Hybrid Drum Kit, Didgeridoo
Nadja Stoller - Vocal, Accordion
Jan Galega Brönnimann - bass and contra-bass clarinet, FX
Das europäisch südafrikanische Trio A.Spell gehört zu den spannendsten Entdeckungen der letzten Jahre. Urban und doch exotisch, filigran und im nächsten Moment mit viel Wucht verzaubert A.Spell das Publikum von Kapstadt bis Riga, von Wien bis Maputo.
Drei Jahre nach "Where the Strange Creatures Live" veröffentlicht A.Spell das zweite Album mit dem Titel The Meaning of Life.

Die Musik von A.Spell hat sich stark weiterentwickelt und überzeugt durch klare Statements. Auf dem neusten Album von A.Spell sind Geschichten zu hören von Herrschern und Königinnen, vom grauen Mond und dunkeln Orten, aber auch vom goldenen Leuchten und eben dem Sinn des Lebens. Klangcollagen und Geräusche vermischen sich mit rhythmischen Strukturen – live gespielt und programmiert. Knarrende und fauchende Bassklarinetten wechseln sich ab mit verklärten Melodien. Getragen von Tabla und Akkordeon fliegt eine helle Stimme und besticht durch ihre klare Direktheit. Druckvolle Bässe und Beats treiben das Geschehen voran.
Drei unterschiedliceh Charaktere prägen die Musik von A.Spell und ergänzen sich perfekt durch ihr energetisches Zusammenspiel: die Sängerin Nadja Stoller, der Bassklarinettist und Elektrotüftler Jan Galega Brönnimann und der Tablaspieler und Perkussionist Ronan Skillen aus Cape Town, Südafrika. A.Spell vermengt Instrumente, Genres und Klänge aus verschiedenen Welten zu einer betörend eigenständigen Musikform.
Die Besetzung von A.Spell macht neugierig:
Nadja Stoller hat mit ihrem Soloprojekt mit "Alchemy" und "Earth Bound" Furore gemacht und gehört zu einer neuen Generation Sängerinnen – selbstbewusst, eigenständig und ideenreich.
Jan Galega Brönnimann ist seit Jahren bekannt als innovativer Grenzgänger. Als Komponist und Instrumentalist arbeitete er mit Leuten wie Nils Petter Molvaer, Sidsel Endresen, Pierre Favre, Saadet Türköz, Eivind Aarset, Eddie Floyd, Aly Keïta, Round Table Knights, Moussa Cissokho oder Kenny Werner. Mit Brink Man Ship hat er sich in den letzten 17 Jahren als Bandleader einen Namen gemacht und spielte in Clubs und Festivals auf der ganzen Welt.
Ronan Skillen verfügt mit seiner Kombination von Hybrid Drum Kit, Tabla, Gongs und einem selbstentwickelten Slide-Didgeridoo über ein eigenes Setup. Er arbeitete neben seinen Projekten wie Babu oder Tonik mit Johnny Clegg, Ricardo Garcia, Freshlyground, Hot Water oder Rodriguez vom Film Searching for Sugarman.
"Das Trio A.Spell macht Musik, die aus dem Dschungel zu stammen scheint.
Aus dem Grossstadturwald, in dem verschiedenste Kulturen miteinander verschmelzen. Archaische Klänge werden urbanisiert, die elektronischen Klänge wirken derweil organisch. Das musikalische Ergebnis schafft es, die Zuhörenden in weit entfernte Sphären zu entführen."
Kulturagenda, Basil Wingartner
"A. Spell tun genau das, wonach sie klingen: they put a spell on you"
Bewegungsmelder
mehr Info auch unter / more info at: aspell.ch.
In Zusammenarbeit mit / in collaboration with: Jazzkeller 69 e.V.

Freitag 22. April - 20:00 Uhr
Vorverkauf: 12 Euro, 8 Euro reduziert (Studenten, Arbeitslose and Sozialhilfeempfänger)
Abendkasse: 14 Euro, 10 Euro reduziert
Advance: 12 Euro, 8 Euro reduced (Students, Unemployed and Sozialhilfeempfänger)
Boxoffice: 14 Euro, 10 Euro reduced
NOVILLA – Hasselwerder Straße 22, Berlin Schöneweide
Reservierung: moving poets 030-23925311 oder CONTACT
The Swiss-South African trio A.Spell is one of the most exciting discoveries on the recent music scene. Urban, yet exotic, fragile and bombastic in the same breath; A.Spell put a spell on their audiences from Cape Town to Hamburg, from Maputo to Moscow.
Three years after the release of Where The Strange Creatures Live, A.Spell are ready to release a second album entitled: The Meaning Of Life.
A.Spell's music has evolved with bold statements and a strong new direction. On this new recording the music explores stories of queens, emperors, grey moons and dark places, as well as golden glimmers of hope for a meaning of life. Soundscapes and percussive textures mix in rhythmic, structured compositions. Unfamiliar combinations of instruments and rich variety are specialities that are endlessly intriguing. Distorted, effected bass and contra bass clarinet, accompanied by tabla, hybrid drum kit, didgeridoo and playful electronics, all blended together by the richness of an accordeon, form the basis for an otherworldly voice soaring high above '

A. Spell' have found a trio where each musician complements the other perfectly. The band comprises of vocalist and accordeon player, Nadja Stoller. Bass clarinet player and electro wizard, Jan Galega Brönnimann and percussionist, tabla and didgeridoo player Ronan Skillen from Cape Town, South Africa.
A. Spell's line-up is intriguing:
Nadja Stoller's recent solo project 'Erthbound' was exceptionally well recieved with sensational reviews. Nadja belongs to a new generation of singers – confident, independent and never lost for ideas.
Jan Galega Brönnimann has been on the scene for years and known for his innovative and cutting edge collaborations. As a composer and instrumentalist he has worked with the likes of: Nils Petter Molvaer, Sidsel Endresen, Pierre Favre, Saadet Türköz, Eddie Floyd, Round Table Knights, Eivind Aarset, Eddie Floyd, Aly Keïta and Kenny Werner. He is best known as a frontman with his own band, Brink Man Ship. Ronan Skillen has been exploring a fusion of tabla, percussion and didgeridoo by means of a hybrid percussion kit which he designed. This demonstrates a rich textural variety and a unique versatility which he uses in musical genres across the board. Recent collaborations include: Rodriguez (Sugarman), Deep South, Björn Meyer, Babu, Tonik, Johnny Clegg, Freshlyground, Hot Water.
"A.Spell create music that seems to originate in the jungle and translate best
in the forests of the big city, blending a diversity of cultures.
Archaic sounds are urbanized and enhanced by organic sounding electronics which all combined, manage to transport listeners to spheres far away."
Kulturagenda, Basil Weingartner
"A.Spell do exactly as their name suggest: they put a spell on you."
Bewegungsmelder